Yeego Gardening

Gardens and small farms that involved growing your own produce were once part of a healthy lifestyle for Navajo people. Traditionally, planting is viewed as a renewing activity, and each growing season is an opportunity for self-renewal.
The Navajo Nation land is a food desert because of its lack of access to affordable healthy foods, but the Navajo people are receptive to the wellness intervention. Tribal Extension provides different avenues to teach the youth and community members' ways to garden and improve healthy living.
Box Garden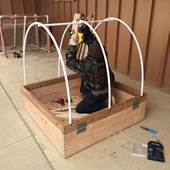 With Diabetes (type-2) being a serious health problem among Navajo people, healthy food choices such as fruit and vegetable consumption, is linked with a decrease in diabetes and cancer risk. Gardening may promote good health by increasing access to nutritious food, and may also help people to save money.
Through the Yeego Gardening collaboration, also known as 'Where Health & Horticulture Intersect: A Navajo Wellness Collaboration,' we plan to (1) improve access to fresh vegetables and (2) improve the ability of the Navajo to grow food.
In addition, community members will learn about healthy eating and gardening on the Navajo reservation, as well as increase resource availability to the Navajo people.
Jesse Jim
This is our mailing address:
2418 E. Hwy 66, PMB 470
Gallup, NM 87301

Please call 505-863-3432 for directions to the office
Phone: 505-863-3432
Email: jesjim@nmsu.edu